About us
The Circle Center is a professional consulting and training company based in Nashville, Tennessee and serving companies and organizations nationwide.
Why did we create the Circle Center?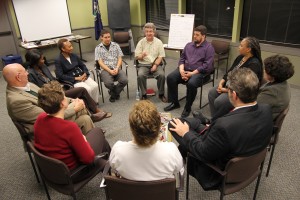 We created the Circle Center out of a passion and desire to create spaces where everyone's voice could be heard. Many times in groups, workplaces and communities, only a few people get to speak their mind, and they're usually the loudest or the ones with the most authority. Circle intentionally creates spaces where everyone has an opportunity to speak on a variety of topics. As empathy and trust is created, what emerges is the fact that we are more alike than different and Circle allows these likenesses to be acknowledged, embraced and celebrated. What we want to create in general is workplaces where everyone gets to know each other on deeper levels, beyond titles and salaries, creating deeper bonds and feelings of belonging, so people feel more connected with each other and to the mission and vision of the organization.
If you're interested in transforming your organization into a more collaborative, productive space, read more about Our Team and Our Approach.